Free Advertising For You is the best traffic site in the industry. Since 2017, it has delivered more signups and sales to my offers than any other site.
The site keeps #1 and #2 places in major ranking sites like Profitable Mailers and Traffic Hoopla… constantly. Top marketers report it as their best signup source too.
Free Advertising For You is a credit based traffic site. You earn credits for reading emails or clicking banners and completing simple tasks. Then you exchange credits to post your ads like banners, solo ads, login ads, etc.
The site is free, and you can join it by clicking the link below.
Click to Join Free Advertising For You
It takes time, however, to earn enough credits to send your solo ad. If you don't want to waste your time, you can upgrade, and purchase traffic packages or separate ads.
I suggest purchasing special offers because they go with great discounts. And right now their admin is running such an offer.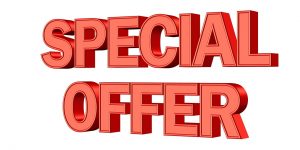 It is the "Super Advertising Package" which you can get access through main menu when you login to the site. Here's what you get with this package:
10 Solo Ads – $150 value;

5,000 Sponsor Ads – not for sale anywhere else;

30,000 468×60 Banner views – $90 value;

5,000 125×125 Banner views – $27 value;

5,000 Featured Banner with Text Views – $30 value;

7,500 Full Page Views – $30 value;

50,000 Text Link Views – $85 value;
and…
5,000,000 Credits To Purchase Ads Of Your Choice!
You'll get the best traffic in the industry so you stay a satisfied lifetime site member… like those who report the site as their top traffic source.
You'll get a total value of $512 which is real, not like other sites set their crap prices randomly. All this for just a $77 one-time purchase.
Are you waiting for more bonuses?
Here they are!
If you take the "Super Advertising Package" (or any other upgrade) being my referral I'll add:
extra 3,000,000 credits – $60 value;

1 Set and Forget Solo Ad – $51 value.
I even give you 100,000 credits if you just activate your account by earning 25 activity points.
Note: This deal is valid only for my referrals as the site allows sending the credits only to downlines.
No one in the industry offers such bonuses. If I were you I would not miss it.
So here are the three simple steps to get your extra 3,000,000 credits:
Step 1.
Step 2.
Take discounted Ad Package. See how to get it at the screenshot below.
Step 3.
Write me at eugene@homeincomeworld.com your username at the site, and I'll deliver your bonuses.
That's it for now.
Write a comment below if you want help. I'm here for you.
Thanks.
Eugene